Rabbit and Hare
Copy for web
Tone of Voice
Brand tone of voice and web copywriting.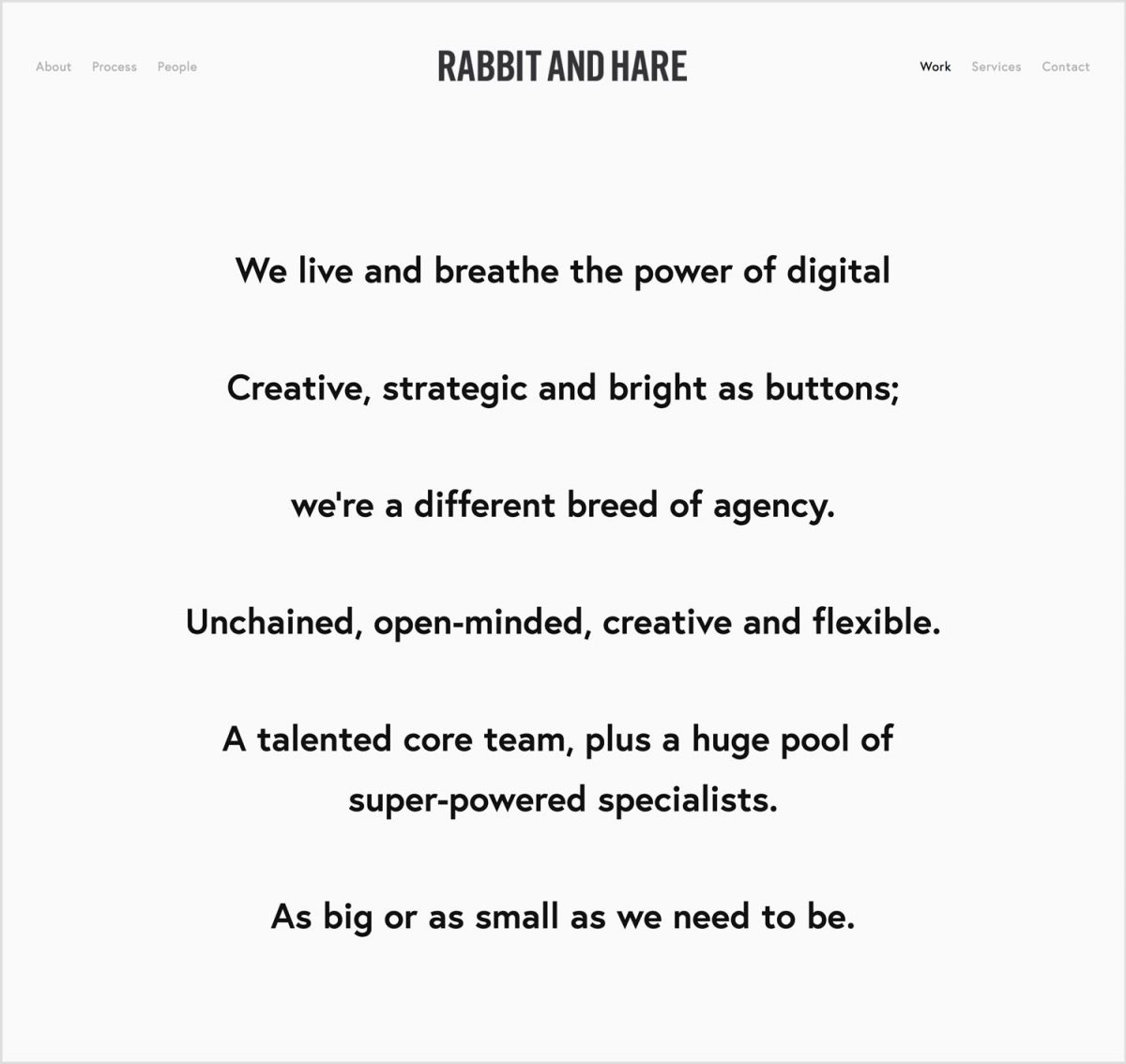 Getting your website together can be a right flippin' palaver.
All that designing and coding and testing and tweaking.
The last thing you need is Freelance Copywriter who adds to the kerfuffle.
When Rabbit & Hare asked me to have a think about how I'd go about writing their web copy, I kept it nice and simple.
Like 99.9999999% of the people I work with, they're busy bashing away at their own stuff. They don't want extra flappery from yours truly. So this is what I suggested:
– I'll explore tone of voice and send 2 or 3 samples for review.
– Once the tone's agreed, I'll write three web pages, three Case studies and whip other pages into shape.
– Then I'll do amends as necessary following feedback.
Three word answer: "Yes, get cracking!"
Of course, writing the copy isn't easy, but at least we'd decluttered the process.
Stage 1
I beavered away on descriptors to inform their tone of voice (Plain speaking, Quirky, Brave, Cutting edge etc.) and using those, crafted several versions of their home page, based on existing copy the client had written.
Seven word answer: "You've made it really hard to choose!"
(in a nice way obvs.)
Stage 2
We had a debate/arm-wrestle/chinwag and narrowed it down to a brand tone that worked for them.
Stage 3
I did exactly what I said I would, no mucking about. There were no changes and it was all live within a month-ish.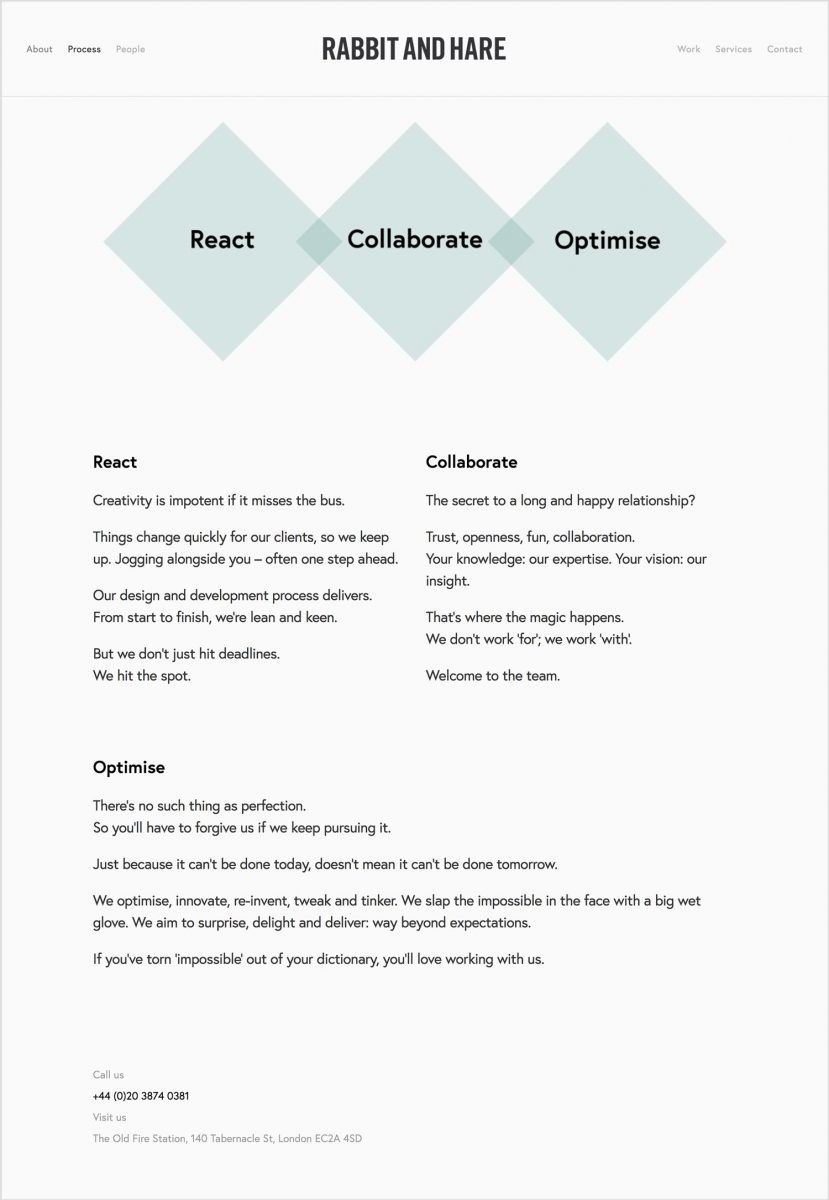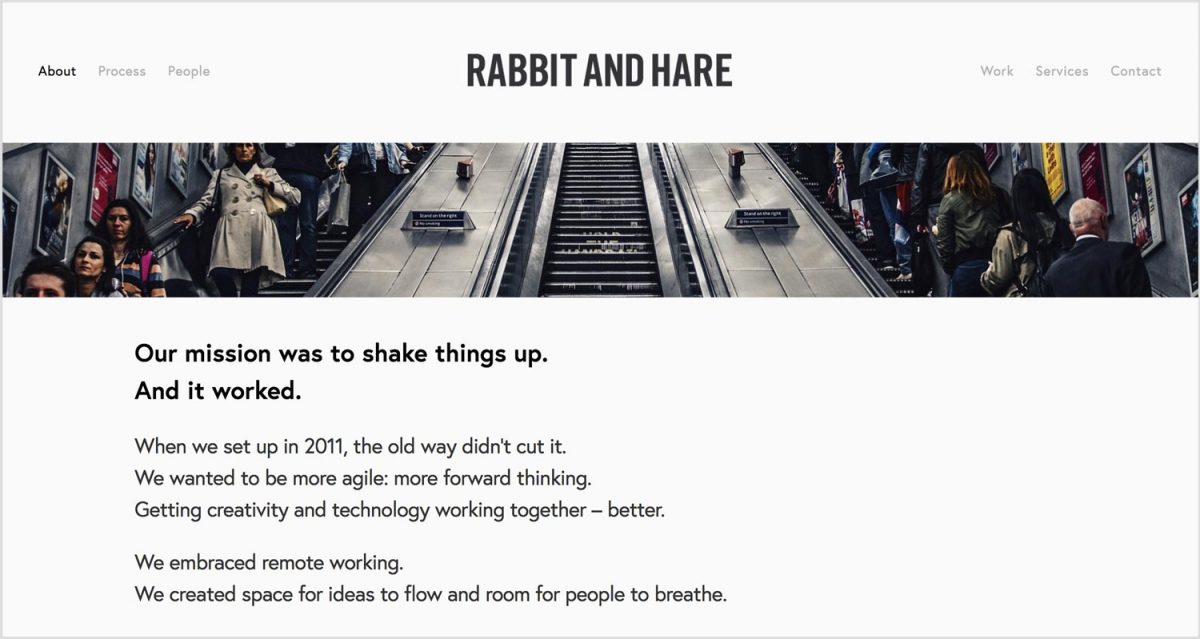 And if these screengrabs look a bit shonky on your device, have a squiz here: rabbitandhare.com
Happy client? What do you think…
"Jonathan is a talented creative writer and all round lovely chap. He takes time to understand the brief, isn't afraid to ask questions and contributes great ideas. He pulls out all the stops and always delivers to an excellent standard. Top qualities? Great results, personable and high integrity." Rob Ryan – Experience Director & Founder, Rabbit & Hare
For more tone of voice and website copywriting work, have a look at UNL Studios