Back to blog
The Non-Movie Buff's Top 10 Movie List
What makes a good movie great?
We all love a good movie, but what makes a good movie a great movie? Without analysing the mechanics of film making, these are the ingredients that keep me on the edge of my seat:
– Hooks me and pulls me in
– I care about the characters
– It entertains me
– It stands the test of time
– I get lost in the story
– I'd happily watch it again and again.
I thought it would be fun to quickly throw together a top ten list of films that tick all of these boxes. How deluded was I!
I reckon I've seen somewhere in the region of 7,000 to 10,000 movies. IMDb has 300,000+ features in its database. Rotten Tomatoes has given more than 350 movies a 100% rating and Hollywood alone releases 600-700 new movies a year. This wasn't going to be as easy as I thought.
Undeterred, I started to draw up a very long shortlist. Here's what I learned along the way.
– My taste isn't very highbrow, in fact I'm about 30% human, 70% popcorn
– I'm a sucker for sci-fi, comedy and action
– The 60s, 80s and 90s were great decades for film
– Somebody is investing millions in a load of straight to DVD dross
– Criteria 6 rules out M. Night Shyamalan movies
– A top forty is easier to compile than a top ten
– If you love rom coms and musicals, best you stop reading now.
Hold on a minute, what's this all got to do with copywriting?
Good question.
Copywriting also needs to hook people, get them to care about something, entertain and stand the test of time (If you're forced to watch a TV commercial 50 times, it ought to be pretty decent).
Great film writing is a masterclass in storytelling, memorable one-liners and dialogue. And when it comes to the posters, that's where you'll find some of the best taglines:
IN SPACE NO ONE CAN HEAR YOU SCREAM – Alien
BE AFRAID. BE VERY AFRAID – The Fly
THE FIRST CASUALTY OF WAR IS INNOCENCE – Platoon
Now we've cleared that up, it's on with the show.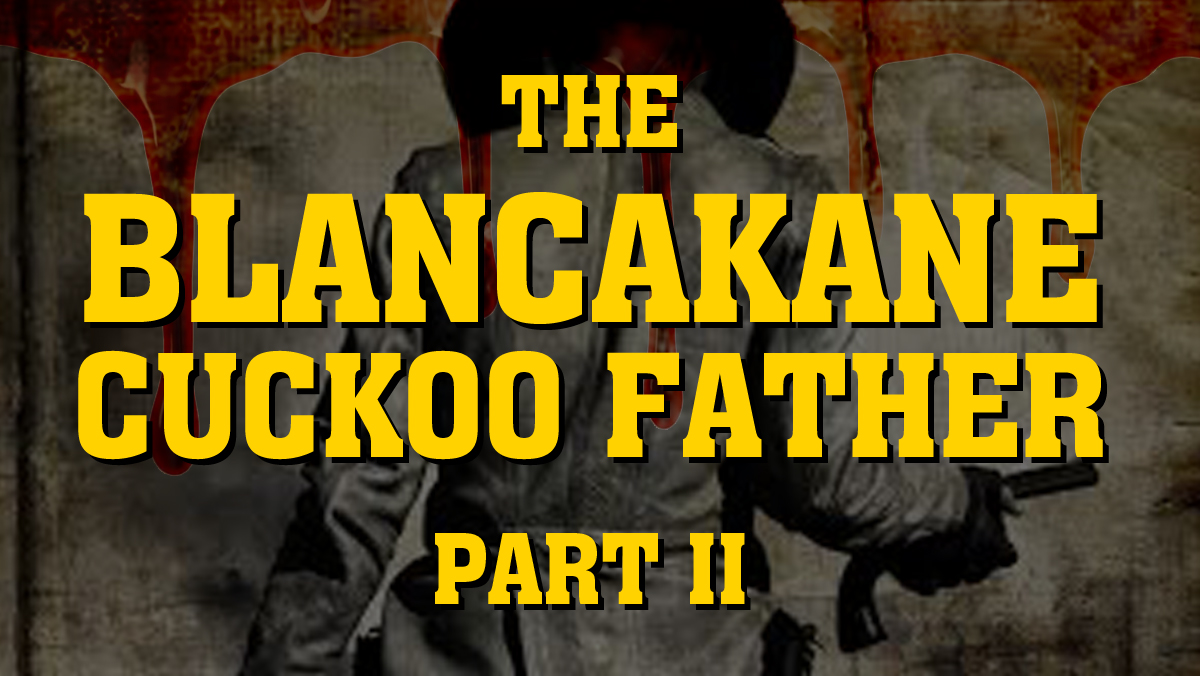 Every movie top 10 list seems to include at least one of these usual suspects (but not The Usual Suspects): The Godfather, Casablanca, Citizen Kane or One Flew Over the Cuckoo's Nest. All superb films no doubt, but none of them made it onto my shortlist.
As my wife might say, "You always have to be different don't you".
I was determined not to be swayed by the opinions of the great and the good. Using my own Gogglebox-ometer, I plundered my DVD collection and memory bank, and soldiered on.
It's a bit of a cheat, but after a lot of deliberation, here are four top tens, all cracking movies (in this reviewer's opinion) and all worthy of a couple of hours of your life. Unleash the geek:
The 'almost made it into the top 30' top 10:
• Once Upon a Time in the West (1968)
• Blade Runner (1982)
• Die Hard (1988)
• Home Alone (1990)
• There's Something About Mary (1998)
• The Truman Show (1998)
• The Bourne Identity (2002)
• Eternal Sunshine of the Spotless Mind (2004)
• Inception (2010)
• Avengers Infinity War (2018)
The 'almost made it into the top 20' top 10:
• The Maltese Falcon (1941)
• It's a Wonderful Life (1946)
• Scrooge (1951)
• Les Vacances de Monsieur Hulot (1953)
• The Magnificent Seven (1960)
• Planet of the Apes (1968)
• Jaws (1975)
• Raiders of the Lost Ark (1981)
• Predator (1987)
• Delicatessen (1991)
The 'almost made it into the top 10' top 10:
• The Lavender Hill Mob (1951)
• The Servant (1963)
• Carry On Screaming (1966)
• Enter the Dragon (1973)
• Raising Arizona (1987)
• Terminator 2: Judgment Day (1991)
• The Big Lebowski (1998)
• Van Helsing (2004)
• The Incredibles (2004)
• The Grand Budapest Hotel (2014)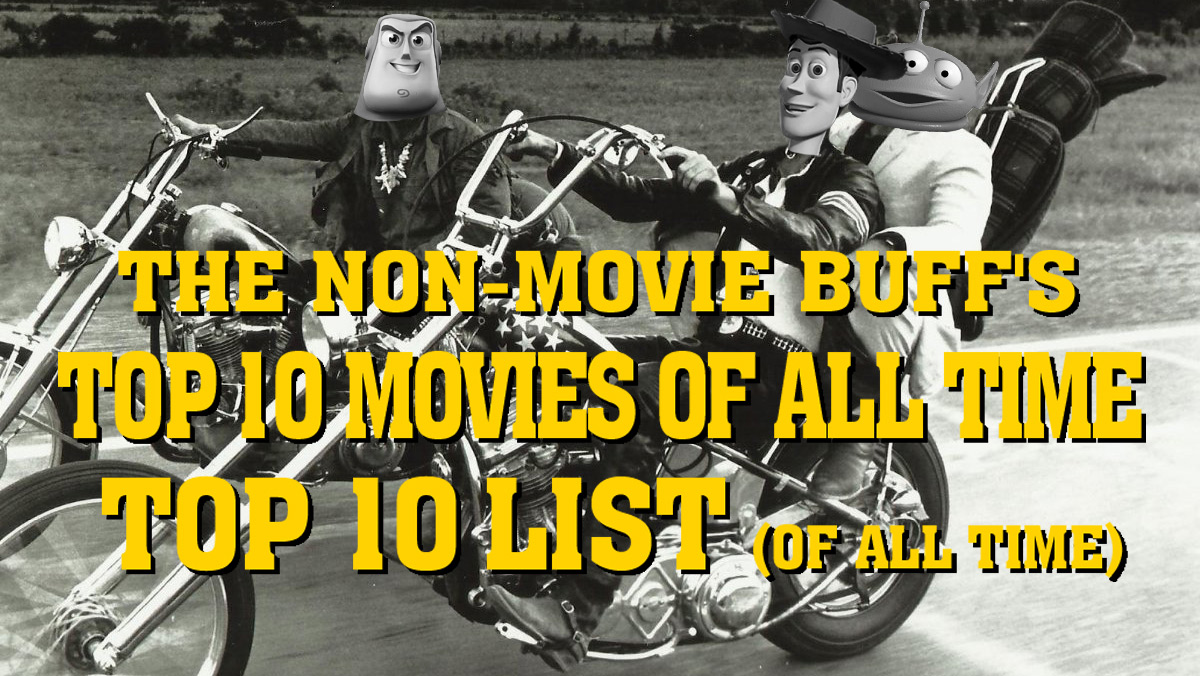 So here it is: the 'non-movie buff's top 10 movies of all time' top 10 list (of all time):
• A Matter of Life and Death (1946)
• Rear Window (1954)
• Goldfinger (1964)
• Easy Rider (1969)
• Gremlins (1984)
• Aliens (1986)
• Big (1988)
• Pulp Fiction (1994)
• Toy Story (1995)
• The Matrix (1999)
And just in case you're screaming at your screen, here are the others that almost made it:
Un Chien Andalou (1928)
Snow White and the Seven Dwarfs (1937)
Key Largo (1948)
Passport to Pimlico (1949)
The Lady Killers (1955)
Forbidden Planet (1956)
Some Like it Hot (1959)
The Great Escape (1963)
Repulsion (1965)
The Party (1968)
Midnight Cowboy (1969)
The Deer Hunter (1978)
Apocalypse Now (1979)
Gandhi (1982)
John Carpenter's The Thing (1982)
Back to the Future (1985)
Wings of Desire (1987)
A Fish Called Wanda (1988)
Wild at Heart (1990)
Dumb and Dumber (1994)
Trainspotting (1996)
Being John Malkovich (1999)
Snatch (2000)
Be Cool (2005)
Ip Man (2008)
Question is, which movies do you think should be in the top 10 and which ones ought to be thrown into the alley behind the Scala?
Now back to that choc ice.
Jonathan Wilcock (that's me) is a Senior Freelance Copywriter.
You can drop me a line here, or email jonathan@sowhatif.co.uk