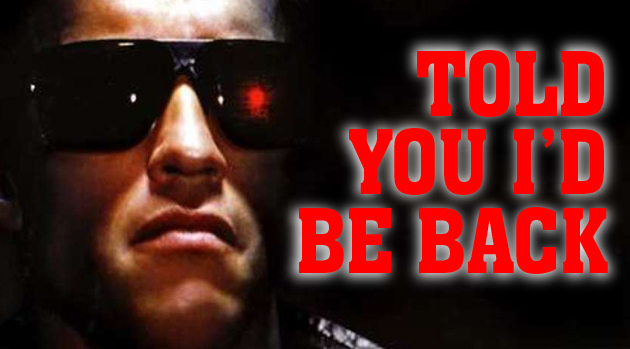 The Official People's Top 'You Gotta Watch' Movie List
I wrote a blog post entitled 'The Non-Movie Buff's Top 10 Movie List'.
Then I asked the Twitterati what movies they'd want to see in their own list.
Crumbs, that got tongues wagging.
As a highly intelligent (some might say hugely intellectual) creative person, I am in no way endorsing this list. There's been no editing or quality control whatsoever. Don't blame me, the people have spoken. Oh whatever, here it is:
The 39 Steps (1936)
The Good, the Bad and the Ugly (1966)
The Godfather (1972)
Rocky (1976)
Grease (1978)
The Warriors (1979)
Apocalypse Now (1979)
Alien (1979)
Escape from New York (1981)
An American Werewolf in London (1981)
Blade Runner (1982)
Back to the Future (1985)
The Breakfast Club (1985)
Commando (1985)
The Goonies (1985)
Flight of the Navigator (1986)
Big Trouble in Little China (1986)
Highlander (1986)
Running Man (1987)
Full Metal Jacket (1987)
Dirty Dancing (1987)
Withnail and I (1987)
Predator (1987)
The Lost Boys (1987)
Die Hard (1988)
When Harry Met Sally (1989)
Total Recall (1990)
Miller's Crossing (1990)
It (1990)
Kindergarten Cop (1990)
Goodfellas (1990)
Wayne's World (1992)
Unforgiven (1992)
Speed (1994)
Forest Gump (1994)
Braveheart (1995)
Se7en (1995)
Before Sunrise (1995)
The Rock (1996)
Romeo + Juliet (1996)
Con Air (1997)
The Big Lebowski (1998)
A Room For Romeo Brass (1999)
Magnolia (1999)
Fight Club (1999)
Memento (2000)
Heist (2001)
Black Hawk Down (2001)
The Lord of the Rings: The Fellowship of the Ring (2001)
Finding Nemo (2003)
Dead Man's Shoes (2004)
Napoleon Dynamite (2004)
Wallace & Gromit: The Curse of the Were-Rabbit (2005)
The Prestige (2006)
Gran Torino (2008)
Inglourious Basterds (2009)
Inception (2010)
Tyrannosaur (2011)
Prometheus (2012)
Goosebumps (2015)
Stats time: 4 Arnies, 4 Ridleys, 3 Clints, 2 Meadows', 2 Cages and only 1 de Niro.
18 from the '90s, 17 from the '80s, 1 each from the '30s and '60s and nothing from the '40s or '50s.
Of the 60 films in the list, I've seen (or at least remember seeing) 45 of them. Of those, I reckon I'd watch 25 again, any day of the week.
Thanks to everyone who cast their vote. If you didn't and your favourite film isn't here, tough – this is now The Official People's Top 'You Gotta Watch' Movie List. End of.
Jonathan Wilcock (that's me) is a freelance Copywriter, Art Director and Creative Director.
You can drop me line here, or email jonathan@sowhatif.co.uk