Back to blog
Copywriters on the rack #10: Sophie Cross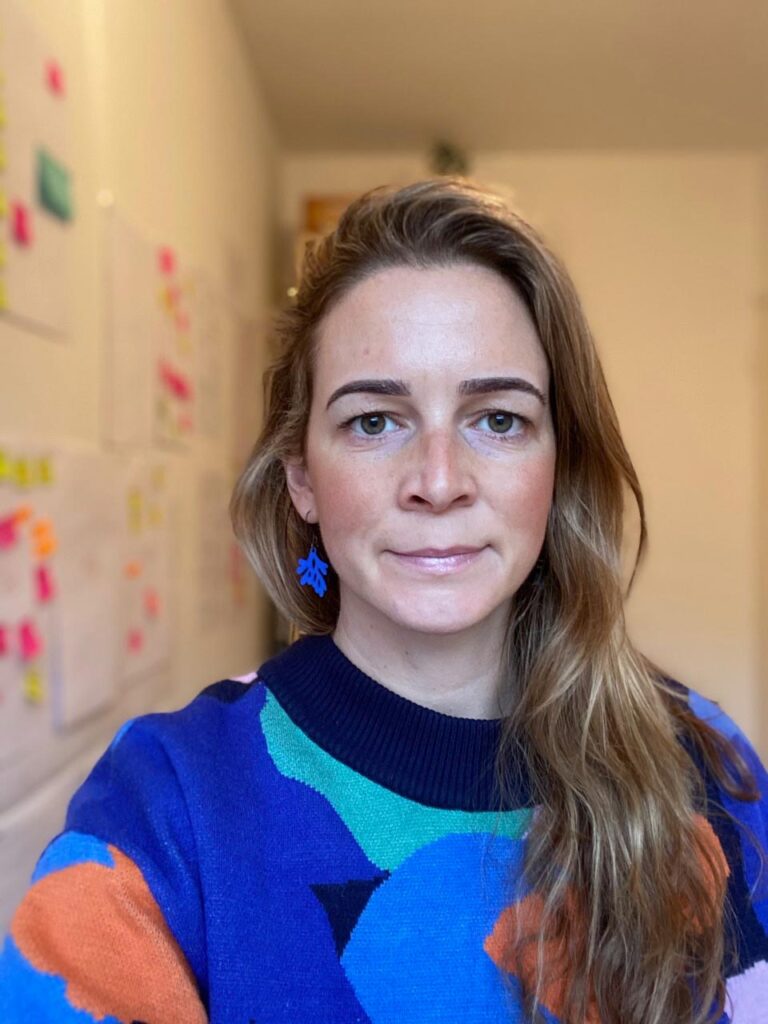 Hello, ay up and bienvenue to Copywriters on the Rack, where I get to ask copywriters awkward questions and watch them squirm. I love my job.
So, victim No.10, who are you and what do you do to pay the bills?
I'm Sophie AKA Thoughtfully, a freelance marketing strategist and copywriter specialising in travel and hospitality.
Dare I say it but in 2020 I did a pivot and I'm now focusing my efforts on trying to completely productise my business. I launched Thoughtfully Marketing School creating online marketing and mindset courses for freelancers.
What was your career path to get to where you are now?
After Uni, I secured the job offer of Pizza Hut waitress. And I worked as a personal trainer. (Yes, at the same time. Always thinking.)
I got bored handing out towels at the Hilton Brighton gym, where I worked, and asked HR if they had any other jobs going. They gave me a shot as Marketing Exec and I worked my way up in Hilton, then went to a hotel/restaurant group based in Soho, then to Resort Marketing Manager at Chessington World of Adventures before going freelance nearly eight years ago.
What's the best thing about your job?
Freedom, fun and other freelancers.
What's the worst?
Unmonitored access to the fridge.
How do you fill the gaps when you're not doing the day job?
I'd like to say backpacking around the world, day trips to the seaside, mountain hikes, gigs and eating my way around London. But this year, the reality is Twitter, dog walks around Peckham and the odd cold-water dip.
Now we've got the formalities out of the way, let's go rogue:
What gives you the heebie jeebies?
I love true crime. I hate horror movies. I can go to sleep listening to podcasts about a man stabbing his wife to death but no, I do not want to know what you did last summer.
What's the naughtiest thing you've done, that's just shy of illegal?
I drove a tuk tuk the width of India. I definitely didn't have a valid driving licence but you can get away with a lot with a smile in India.
What's something you are brilliant at (besides copywriting of course)?
Making playlists. I also have a song in my head for pretty much everyone I've ever met.
Write me three straplines for:
1) Mrs Ramsbottom's Candied Tripe
Feast your mince pies on this.
Now you no longer need to choose between meat and sweet.
2) The blockbuster: 'Alien v Home Alone'
Keep the change, ya filthy alien.
3) The Gov's slogan for the end of Covid UK street party
Hands, Face, Space
Shoulders, Knees & Toes
Who'd win in a fight, Hattie Jacques with a bedpan or Bear Grills with a tent peg?
Hattie Jacques, no question. We all know Bear really drinks San Pellegrino not pee, and stays in plush hotels.
What did you want to be when you grew up?
I always wanted my own business. I have written so many business plans… Flower & Forage, On & Off Magazine (I don't know either), Somerset Sports Holidays, The Hip Hop Fish Shop, Stinky's Cheese Shop (that one will still happen one day).
I used to have an online gift shop called Salmon & Moth. As it turns out, it's probably best to set up a business about something you know something about and ideally with low start-up costs.
What would you like to come back as, if there's a next time?
A mermaid. My head is in London but my soul is by the sea.
Draw me a picture of a miserable Morris Dancer with a machine gun (yes I know you're a writer, but do it anyway).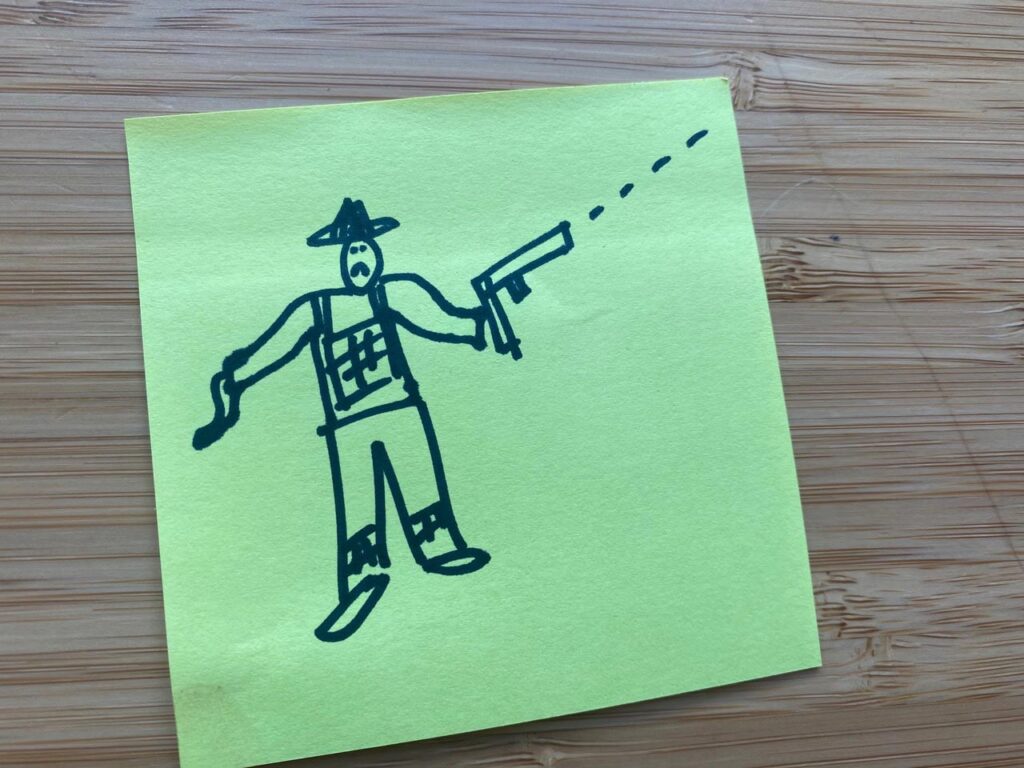 WTF? In this order, my skills go writing, speaking, singing, drawing. I'm horrendous at singing and not that great at speaking. I've just Googled 'how to draw a Morris Dancer'. No help whatsoever.
What are the top three things on your bucket list?
I think life's too short for a bucket list. Or maybe I just want to do everything.
Pandemic aside (yawn), if I really want to do something, I'll try to make it happen. Next up for me, I'd really like to be part of a crew for someone else's adventure. Si (my husband) and I want to do some sort of paddle board thing around a loch or down a river. Then maybe a Channel swim in a few years.
But seriously, if you want to do something, for god's sake don't wait until you're retired.
What is love?
Sharing a bed for the rest of your life.
Pick a random pic from your camera roll and tell us about it.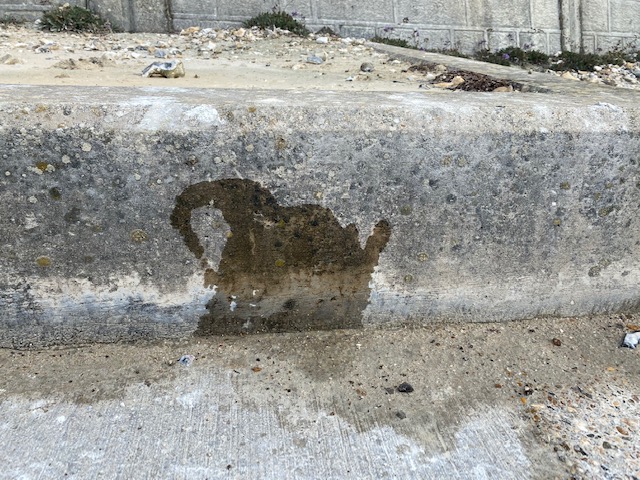 My dog, Rusty, did a pee and it really looked like an elephant. That's pretty much the highlight of my camera roll over the last year.
Is there anyone you'd like to say thank you to?
Dave Harland for shouting out my newsletter causing lots of people to subscribe.
Anyone you'd like to say sorry to?
The last 66 people who subscribed to my newsletter, expecting it to be anywhere near as good as Dave's.
What would you do with your last tenner?
Buy a URL.
Let's play word association:
Brown Coffee
Gorgeous Coffee
Tasty Coffee
What's the last thing that made you cry?
The love circulating on Twitter and some of the thank you emails people send me genuinely make me well up quite a bit right now.
Make up your own question and tell us whatever you want to get off your chest.
What's the best fact you've ever heard?
It was told to me by my great friend @gemmyred and it's so good you won't believe it's true….
When an alpaca gives birth, it's called an unpacking.
You're Googling to check; I know you are.
Give me three reasons why I should let you go.
I'll take you to our joint favourite restaurant in the world, in Jaipur (how mad was it when we found that out?)
I'll make you a sick mixtape.
I really need to get back to Twitter.
OK, even I'm open to bribery, but before I remove the shackles, tell us where we can find you online.
You can subscribe to my weekly marketing mindset newsletter here: https://www.thoughtfully.co.uk/marketing-blog
I'm @FullyThoughtOut on Twitter and I'm normally on Twitter 27 hours a day.