Back to blog
Copywriters on the rack #2: Gareth Hancock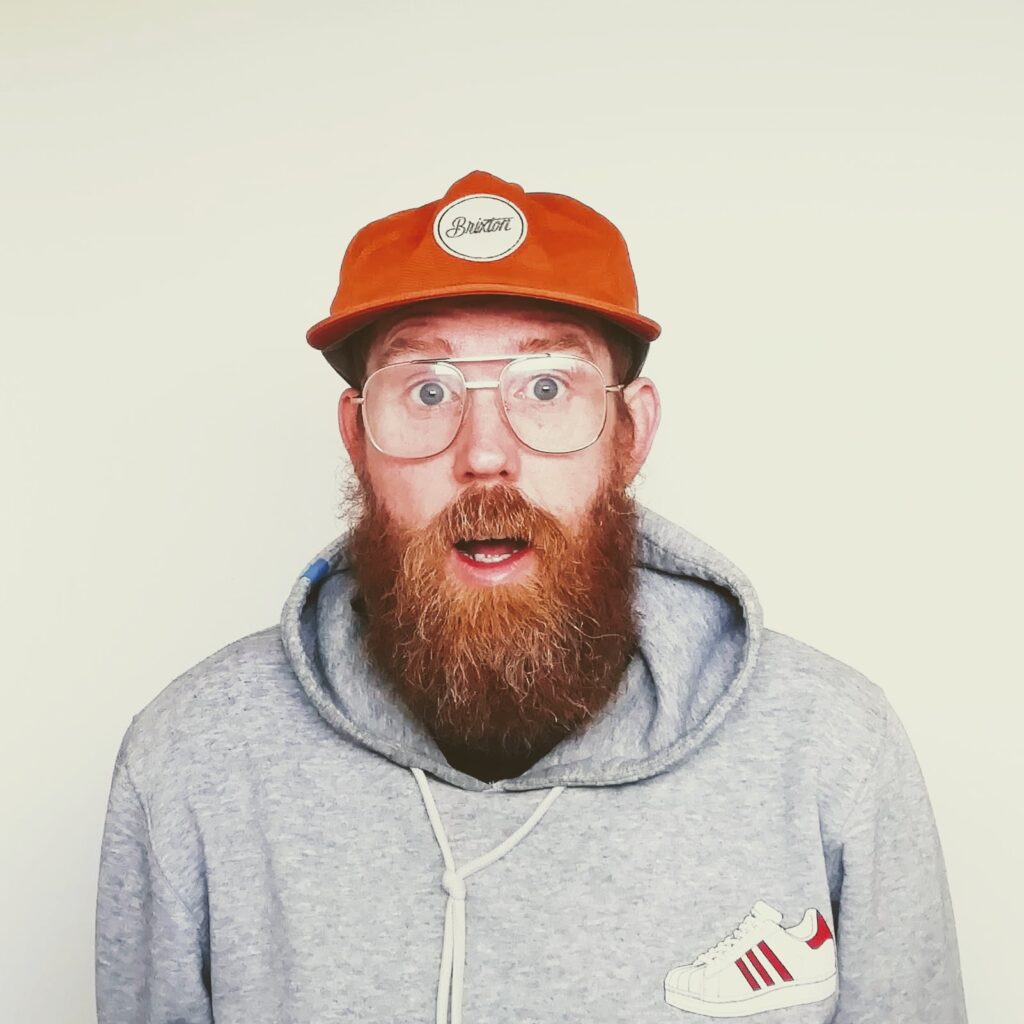 Hello there and a jolly warm welcome to Copywriters on the Rack. Thanks for allowing me to apply the thumbscrews. So, to get things started:
Who are you and what do you do to pay the bills?
Hiya! I'm Gareth Hancock and I'm a copywriter. Which means, somehow, I get to pay the bills by coming up with ideas and turning them into words. Earning a living through writing will never not seem mad to me.
What was your career path to get where you are now?
My career path from leaving school with little in the way of qualifications goes: trolley collector for Sainsbury's, recycler pushing cardboard and polystyrene through a machine at a Samsung factory, dryliner putting plasterboards on walls on various building sites, dole, dryliner again, dole again, dryliner again, dole again, freelance copywriter, employed copywriter, freelance copywriter again.
It's a strange one. There's nothing in my work history before copywriting to suggest I'd turn to paying the bills with words. And that's because I'd never entertained writing as a job. Few people from working class areas do. But here we are.
After being made redundant from the building trade for the third time during the 'great recession', I was out of work for seven or eight months. I needed a way to put food on the table and keep the lights on, so I made a job up — something I could do from home in between visits to the job centre. I discovered a freelance marketplace and applied for an article-writing job, wrote a sample and got it.
That was in 2011 and I got paid $5 for the article. But it led to more work, which gave me a portfolio good enough to land a job as a copywriter at an agency in 2014 (freelancing was too hard then), which led to me returning to freelancing in 2017 and having the privilege of being a Copywriter on the Rack in 2020. 🙂
What's the best thing about your job?
The freedom. I get to decide everything from when I work to who I work with to which brand of tea bags are in the kitchen (Yorkshire Tea).
What's the worst?
The uncertainty. The best thing about employment is having a regular wage. You don't have that with freelancing. It can go tits up at any time. Work can fall through or you can lose clients unexpectedly. That's always in the back of my mind.
How do you fill the gaps when you're not doing the day job?
Being a dad. Walking the dog. Reading. Playing football. Playing tennis. Watching tele. Watching my phone. Doodling.
Now we've got the formalities out of the way, let's go rogue:
Gravy, mushy peas or curry sauce?

Oouff. Gravy.
Favourite smell?
I don't think I have one particular favourite smell. But my wife bought me a leather bookmark for our first wedding anniversary and the smell of it takes me back to when I was a kid on holiday in Spain. My Mam would let me go to a huge souvenir store over the road from the hotel and I'd spend ages in there browsing the wares, especially the two aisles of fake football shirts which were sandwiched between rows of leather handbags, wallets and purses. It's a nice memory.
Favourite childhood sweet?

Tough one. I was a big fan of those beer glass penny sweets. The ones that tasted a bit like shandy. It's between those, foam shrimps and Nerds.
Favourite adult snack?
Wispa Gold, I reckon.
What did you want to be when you grew up?

A pro wrestler or a footballer. When I got to secondary school, I was more realistic and wanted to be a graphic designer. I took my work experience at what I thought was a graphic design agency but it turned out to be what I know now as an architectural company. I was working on blueprints for boring houses with a boring draughtsman who barely spoke and didn't seem to like kids. It put me right off. After that I didn't know what I wanted to be.
What would you like to come back as, if there's a next time?
It'd have to be a dog. A good boy that gets lots of treats and fuss.
What gives you the heebie jeebies?
Feet.

What's the last thing that made you cry?

I can't remember the last time I cried. But the last thing that got me emotional was my oldest boy walking out of primary school for the last time.
What are the top three things on your bucket list?

1. A trip to Tokyo.
2. A trip to the Millerntor-Stadion to watch FC St. Pauli.
3. To be in an Olympic Stadium on 100 metres final night.
What is love?

1. Equality.
2. A dog's reaction when you return home after leaving the house for any longer than 30 seconds.
Pick a random pic from your camera roll and tell us about it.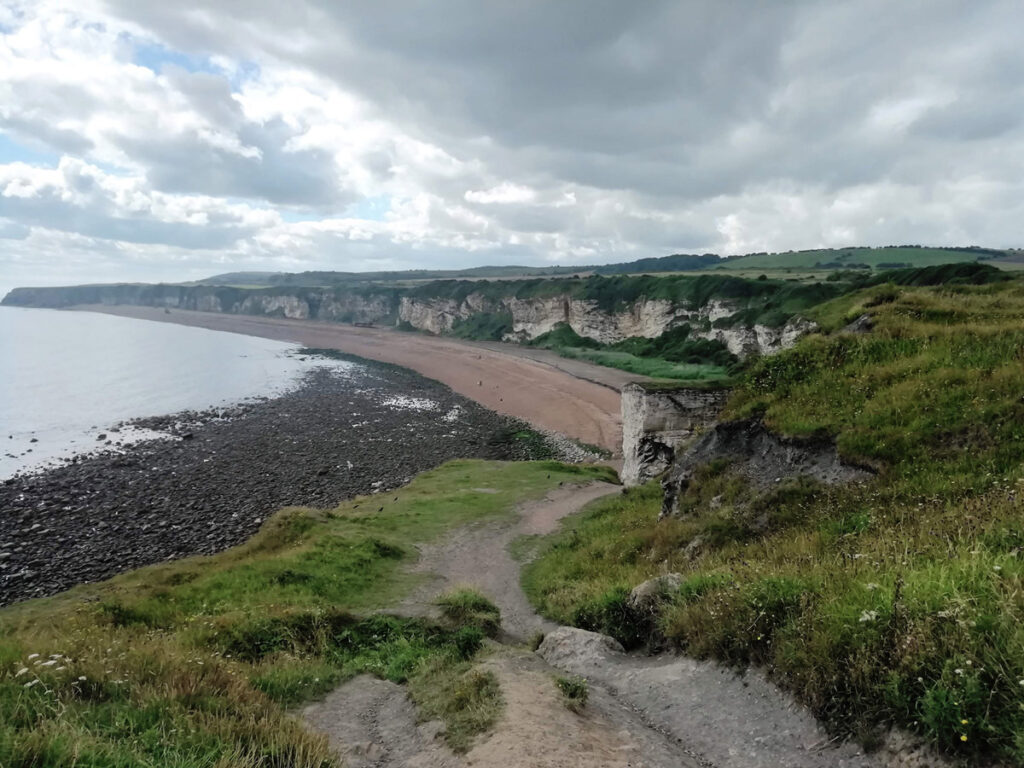 Blast beach.
This bit of the Durham coastline used to be home to Europe's biggest coal mine and Blast Beach was a dumping ground for two and half million tonnes of colliery waste a year, so the pollution was horrendous.
It was grim enough to feature in the opening of Alien 3.
But a massive clean up project in 1997 removed the waste and turned it into the coastline you see in this pic. My phone camera doesn't do it justice. It's one of the most stunning places I've been to. On the day I took this photo, it was like visiting another country. You'd never believe it's 20 minutes up the road from the smog of Teesside.
Is there anyone you'd like to say thank you to?
Thank you to you, Jonathan, for being a sound, funny, supportive pal on Twitter. And having me on the rack.
I'm blushing. Is there anyone you'd like to say sorry to?
I hope that anyone I owe an apology to has already had it.
Let's play word association:

Cheese Pizza
Donkey Wonkey
Fluff Monster
Favourite comic character?
V from V for Vendetta.
Make up your own question and tell us whatever you want to get off your chest.
Why do so many businesses use businessy jargon in emails and marketing? I got an email the other day that mentioned 'circling back', 'leverage', 'traction', 'online assets', 'driving revenue' 'solutions', 'core competency' and 'empower' within about five sentences.
I don't talk like that and I've never met another person that talks like that. I doubt the chap that sent me the email talks like that in real-life.
I think they forget that they're not a business selling to a business; they're a person selling to a person. If they approached it like a face-to-face conversation, it'd be better for both sides.
Where would you rather be and why?

In a library. There's something lovely about being by yourself in a quiet space with other people, surrounded by books.
And before I remove the shackles, tell us where we can find you online.
My website is www.thatcontentshed.com
I'm on Twitter and other socials @thatcontentshed
And I'm on LinkedIn on the other side of this link: https://www.linkedin.com/in/gjhancock/